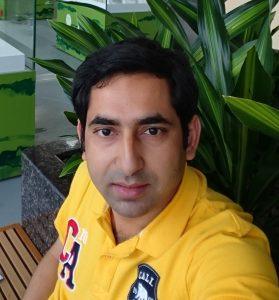 National ambassador for India
Dr Adam A Bahishti worked in a DRDO-LASTEC sponsored major project entitled "Design and Fabrication of Photon Drag-Detectors and TEA CO2 Laser as their Evaluation" from 2006 to 2009. He obtained his Ph.D. in 2012 from Department of Physics, Jamia Millia Islamia (Central University) New Delhi, India. Immediately after completing Ph.D., in December 2012, he joined Department of Bioscience, Jamia Millia Islamia as a guest teacher in Physics and worked up to April 2013. He also worked as guest teacher in Physics, Department of Applied Science, Faculty of Engineering and Technology, Jamia Millia Islamia New Delhi, India from July 2013 to April 2014. In August 2014, he got the position of Assistant Professor at the Department of Physics, College of Science Al-Zulfi, Majmaah University, Saudi Arabia and served there up to August 2018.
His research focus is in the Material Science for synthesis and characterization and he is also handling the editorial responsibility for the Journal of Modern Materials. Currently, he is voluntary working with AIJR publisher as Managing Editor, where his major responsibility is to maintain and improve publication quality by implementing international standard scholarly publishing practices.