What we offer to Journals

We offer Journals the possibility to subscribe to one of three different plans: FREE, PLUS and PREMIUM. They can choose an essential profile (FREE), that gradually offer more features with the PLUS or PREMIUM plan subscription.
Here an overview of the services that will be offered according to the chosen plan:
Tangible Benefits for Peer Reviewers
As we believe that the peer review activity deserves recognition and rewarding, we assign 1 credit for each confirmed review performed for any Journal listed in our database. Our Plus and Premium plans enable Journals to obtain extra credits for their peer reviewers.
These credits can be redeemed immediately and spent in our Reward Center in many different ways: discounts on editorial services, conferences participation, training courses, charity initiatives.
Free API and Plugins
With a Free Plan, Journals can transfer peer review data from their submission management system to us, thanks to the Technical Integrations with our platform and through a manual (CSV Upload) or automated (via Open Journal Systems – OJS, Arpha by Pensoft, Editorial Manager) validation process.
Please access our tutorials or request a demo if you are interested in integrating with ReviewerCredits.
Gender, ORCID iD and Regional Distribution of peer reviewers
As Diversity means first of all Gender balance, we offer our Plus and Premium Journals to publicly show the percentage of Women and Men included in the reviewer pool:
In order to enlight the "researcher status" of peer reviewers, a Plus/Premium Journal could show the percentage of their peer reviewers registered with an ORCID iD:
The Regional Distribution Map is updated in real-time and displays the active reviewers of our Plus/Premium Journals.
Peer Review Certification
With a simple PDF download, a Plus or Premium Journal can get the list of peer review activity recorded through ReviewerCredits or imported by reviewers from ORCID, with year, reviewers, number of reviews for each reviewer.
Our Peer Review Certificate accurately reports the history of all the reviews completed by the Journal over the years, including the Reviewer Contribution Index feature if subscribed.
Reviewer Contribution Index (RCI)
Developed in collaboration with the University of Valencia, the Reviewer Contribution Index (RCI) is the metric that considers three objective parameters – not only the number of peer reviews performed – to measure the peer review activity: Review report length, Review report delivery time, Alignment of reviewer recommendation to editorial decision.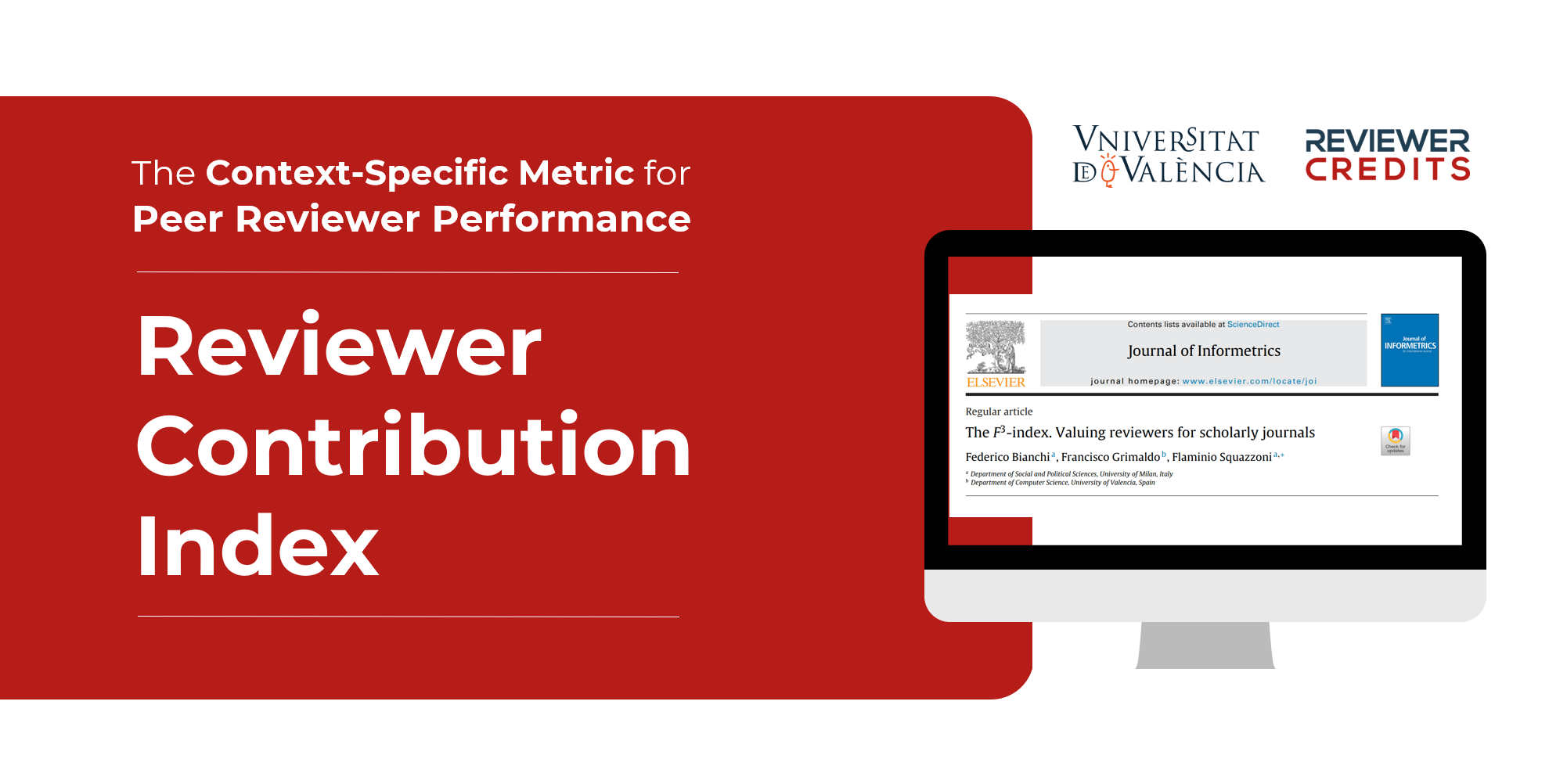 The Journals that subscribe the RCI feature can see in their profile on ReviewerCredits the indexes of their peer reviewers.

Search and contact peer reviewers
We offer to the Premium Journals the access from their profile page to our database of peer reviewers, filtering them by Primary Institution Country, City, Primary Topic, Keyword.
Once a Journal gets the list of matching reviewers, they can be contacted directly using the "Message" button. A Journal can send unlimited messages to reviewers and keep track of their replies.

Journal
Signup

Subscriptions
Plans

Searching for
Reviewers?