Event info
Type: Webinar
When: February, 4th 2021 | 16.00-17.00 (CET)
Pre-registration for this (free) webinar is necessary to guarantee participation, please CLICK HERE to register
ReviewerCredits offers an exciting opportunity to participate in an insightful event in partnership with R Upskill on how to boost you career with peer review. The 1 hour Webinar will focus on Jacob Wickham personal experiences with peer review and case studies. He will discuss the key points of peer review and will share case studies to support his insights.
Our Speaker will touch upon the following themes:
How to become and effective and impactful peer reviewer
How to boost you career with peer review
The importance of peer review recognition
Case studies related to personal experiences
***
Speaker: Dr. Jacob Wickham
Managing Editor of the journal Integrative Zoology and Assistant Professor at the Institute of Zoology in the Chinese Academy of Sciences (CAS) and Adjunct Professor at the Department of Entomology in Rutgers University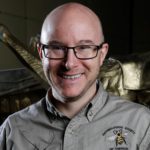 Information on Dr. Jacob Wickham research can be found at:
Researchgate
Google Scholar
Dr. Jacob Wickham is Assistant Research Professor, Institute of Zoology, Chinese Academy of Sciences, Adjunct Professor, Department of Entomology, Rutgers University, and Managing Editor of Integrative Zoology (ranked in top 10% among all Zoology journals). He has over 15 years of professional experience in the USA and China as a researcher, publishing research in many top journals (Current Biology, The ISME Journal, Microbiome, etc) and has 8 years or editor experience, serving as handling editor for approximately 1/3 of all the manuscripts submitted to the journal Integrative Zoology, managing the peer review process, and strategic planning for the journal (e.g. organizing special issues, inviting reviews, and planning the annual International Symposium of Integrative Zoology). In addition to his editorial duties, he frequently serves as a peer reviewer for many top journals in the fields of Entomology and Ecology.