You register your peer activity. We certify and reward it.
Joining us is totally free for Peer Reviewers. We offer a free public profile by signing in with ORCID iD or Google account.
Once logged in, Peer Reviewers can register a peer review report following a simple process that we have called Claim a review.
"Claim" because we verify that the review has been performed, by asking a confirmation from the Journal's editorial office. This step is critical in order to create a reliable and traceable history of activity performed. Each confirmed review:
Feeds the Registered Peer Reviews and the Reviewer Contribution Index (RCI), that can be displayed by the reviewer on her/his public profile if the Journal has subscribed the feature.
Is listed in a downloadable Reviewer PDF Certificate, that includes the reviews imported from your ORCID profile. As peer review activity has had low visibility, this is a huge step towards reviewer recognition. The certificate can be added in the resume and shared on social media, personal and institutional websites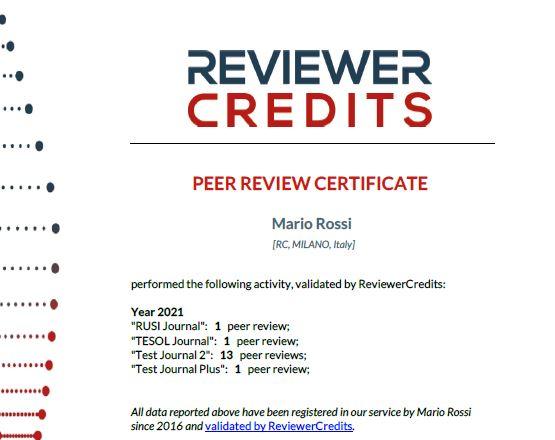 Entitles reviewers to get tangible Recognition in the form of virtual Credits that can be redeemed in our Reward Center
Discover more about services and features we offer to Peer Reviewers
We believe that review recognition improves collaboration and trust between Peer Reviewers and Scientific Journals, making the publication workflow more effective and efficient for all. The reviewer rewarding system is one of the services included in the Subscription Plans tailored for Journals: FREE, PLUS and PREMIUM.
With a Free Plan, Journals can transfer peer review data from their submission management system to us, thanks to the Technical Integrations with our platform and through a manual or automated validation process.


To all completed and confirmed peer review we assign tangible Credits, that peer reviewers can redeeem in our Reward Center.
With a Plus or Premium Plan, a Journal could benefit of more features and functionalities: