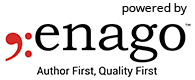 ReviewerCredits, has partnered with Enago, a world-leading provider of author services to researchers. Authors can choose from a range of editing services and get their manuscripts edited by Enago's professional editors from their subject area of research. If you are registered to ReiewerCredit you will receive up to 30% discount on your services.
About Enago
Enago is a trusted name in author services for the global research community. Founded in 2005, we have worked with over 100,000 researchers in more than 125 countries improving the communication of their research and helping them to achieve success in publication. Enago Academy, the author education arm of Enago, addresses emerging needs of early-stage researchers by providing publication-intensive training resources via different digital platforms and onsite workshops. Enago operates globally with regional teams supporting researchers and institutions locally. We have offices in Tokyo, Seoul, Beijing, Shanghai, Istanbul, and New York.


About PremiaWeb
Supporting great ideas, improving people's life.
Founded in 2000, Premiaweb is a digital media company. We created and developed projects that have had positive impact on millions of people. Today we invest in innovative companies and contribute to the digital ecosystem.

Cenfor International srl è un'azienda leader in Italia e in Europa nel settore della distribuzione di informazione digitale. Nasce nel 1975 come distributore di monografie e periodici cartacei di scienza, tecnica ed economia e si afferma sul mercato per professionalità e competenza.  Dal 1999 Cenfor International si specializza in servizi digitali di informazione e documentazione. E' attualmente distributore affermato di risorse per biblioteche e centri di ricerca, oltre che di strumenti digitali per la gestione di documentazione scientifica e tecnica.  Dal 2013 estende le sue attività informative anche per aziende, banche, studi legali e redazioni giornalistiche. Rappresenta e distribuisce alcuni dei più prestigiosi information provider internazionali (LexisNexis, Proquest, Brepols Publishers, Britannica Online, Springer Nature, Gruppo Meta). Offre inoltre soluzioni per l'arricchimento dei cataloghi delle biblioteche, piattaforme di e-learning, oltre che di soluzioni digitali innovative per la consultazione delle risorse su smartphone.

Since 1990 this three-day meeting is held every year in May in Milan, Italy. Over the years, it has become established as one of the most important and renowned scientific events in the field of Anesthesia, Intensive Care and Emergency, now attracting more than 3500 participants. Internationally oriented since its first steps, the SMART meeting is valued by a faculty of renowned experts from all over the world. Born as a point of contact between scientific community and the world of industry, the SMART meeting has always gathered the best ideas from this synergic relationship, combining a top level scientific program with a wide and diversified technical Exhibition of the latest medical equipment and pharmaceutical products.
The next appointment with SMART will be in Milan, May 8-10, 2019. Full details here.