ReviewerCredits keeps improving services offered to the scientific community providing a sturdy and transparent tool to certify, measure and reward the peer review activity, and facilitating the search for referees to entrust with the review process of the articles, helping to build quality standards.
The independent platform is now focusing on thematic areas and start with a new project that aims to compose a database of journals and peer reviewers highly specialized in particular disciplines.
The pilot project "Agriculture" has gone in this direction, as a large number of journals and reviewers in this subject area is using the platform to certify their peer review activity and gain rewards.
We thank all the journals that participated and supported the project and, in particular, we are pleased to introduce Asian Journal of Agriculture and Biology.
Asian Journal of Agriculture and Biology (AJAB) is an online, open access, peer reviewed journal that publishes original research articles on environmental, plant and animal sciences.
ReviewerCredits conducted a brief interview with AJAB about their experience with peer review and main goals on focusing on quality publications to get Impact Factor.
• About Asian Journal of Agricultural and Biology
Asian Journal of Agriculture and Biology (AJAB) is an online, open access, peer reviewed journal published quarterly by Life Sciences Society. It publishes original research articles, short communications and review articles on environmental, plant and animal sciences.
AJAB is recognized by Higher Education Commission (HEC) and indexed in Web of Science (ESCI, MJL), Scopus, CAB Abstracts, Index Copernicus (ICI Master Journal List), DOAJ, ROAD, Ulrich's Web, CNKI (China) and Pakistan Science Abstracts (PSA). The journal is read and abstracted internationally.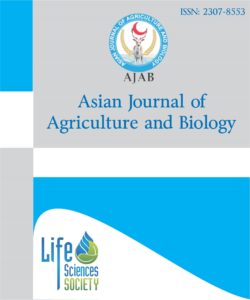 • Interview with the Editor in Chief, Zahid Iqbal*
What kind of peer review do you use, and what are the advantages it offers, in your opinion?
We use single blind peer review. Reviewers know the identity of authors but authors do not know who is reviewing their article. Benefit of single blind peer review is that reviewers can review the articles on merit, without any influence from the authors.
In your vision, what is the importance of peer review in the publishing process? Tell us something about your experience with peer review.
Peer review is the cornerstone of our scientific activities and is the backbone of publishing process. Unless validated by experts, scientific studies should not be published, otherwise novel findings may be viewed as simple statements from the discoverers, unless peer review adds additional weight to those claims.
We have a good and pleasant experience with peer review process in Asian Journal of Agriculture and Biology. The only hurdle is that most of the times many experts refuse to peer review an article due to their own commitments that delay the publication process. Sometimes experts do not review the articles timely that also adds on delays. To our opinion, there should some career benefits for those who review research articles like ReviewerCredits is doing. This will significantly reduce the delays in publishing process.
What are the main goals of your journal for 2021?
We are striving for inclusion in Journal Citation Report (Clarivate Analytics) to get impact factor (IF). For that we are focusing on quality publications which can get higher citations to meet IF criteria.
Knowledge is exploding with every moment and science is discovering new horizons with every passing day. To encompass this knowledge and, particularly disseminate it to the scientific community free of cost, was the major inspiring force behind the launch of AJAB. Our objective from day first was to keep the journal Open Access and Online Only and till date we are adhering to it.
*Zahid Iqbal, PhD, Editor-in-Chief & Professor, Department of Pharmacology, Isra University, Islamabad, Pakistan
Login and Visit Asian Journal of Agriculture and Biology (AJAB) profile page.
Find out more about the "Topics Project" and choose to participate for your discipline: contact us.