Who we work with
Following our commitment to being an accountable partner of the scientific community we collaborate with professional associations, institutions, repositories and other organizations that create value in the fields of scholarly communication and academic publishing.
Memberships
Committee on Publication Ethics

As a member of the Committee on Publication Ethics (COPE), we encourage the adoption of The Core Practices, that have replaced the Code of Conduct since 2017, which are applicable to all involved in publishing scholarly literature: editors, journals, publishers, and institutions. The Core Practices should be considered alongside specific national and international codes of conduct for research and are not intended to replace these.
European Association of Science Editors

Constantly listening to science editors' needs and sharing our expertise on Peer Review, we have become a member of the European Association of Science Editors (EASE) and took part to the 15th EASE General Assembly and Conference on the theme 'Promoting sustainability in scholarly publishing: the role of editors'. The EASE is one of the most relevant international community of editors from diverse backgrounds and professional experience who share an interest in science communication and editing.
ORCID

As a member of ORCID, we embrace their vision of "a world where all who participate in research, scholarship, and innovation are uniquely identified and connected to their contributions and affiliations across disciplines, borders, and time. (…) What may appear to be a humble alphanumeric string in fact offers crucial opportunities to engender".
Declaration on Research Assessment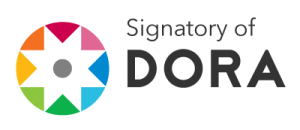 We are a signatory of the Declaration on Research Assessment (DORA) which recognizes the need to improve the ways in which researchers and the outputs of scholarly research are evaluated. The declaration was developed in 2012 during the Annual Meeting of the American Society for Cell Biology in San Francisco. It has become a worldwide initiative covering all scholarly disciplines and all key stakeholders.